Leaving Time by Jodi Picoult
Title: Leaving Time
Author: Jodi Picoult
Published: November 2014
Read: 02 August 2017
My Rating: 5 Stars and listed as a favorite
Goodreads Blurb:
Number One bestselling author Jodi Picoult returns with her compulsive new novel - about the lengths we go to for those who have left us behind; about the staying power of love; and about how three broken souls might have just the right pieces to mend each other.
Jenna Metcalf was with her mother the night she disappeared in tragic and mysterious circumstances, but she remembers nothing.
Over ten years have passed, and still Jenna reads and rereads her mother's journals, hoping to find some clue hidden there, in the meticulous recording of her scientific research with elephants.
Desperate for answers, Jenna uses all her savings to recruit the aid of a private detective - and a psychic.
Jenna knows her mother loved her. She knows she would not leave her. And she will not rest until she finds out what happened that night. In her most gripping mystery since House Rules, Jodi Picoult brings us a powerful story of a young girl's determination to uncover the truth, however shocking and life-changing it might be.
"The moral of this story is that no matter how much we try, no matter how much we want it.... Some stories just don't have a happy ending"
That's life, I guess. Sometimes, we don't end up with a and they lived happily ever after. And sometimes, that's just the way it is. Sometimes your grief is as big as an elephant. Sometimes the only consolation is an elephant.
The story is told through the eyes of different characters. First we meet Jenna. Jenna is a 13 year old teenage girl who lost her mother when she was 3 years old. Too young to stay alive on her own. No, staying alive is not the same as surviving. She survived. Humans and elephants can survive quite a lot you know. But we don't necessarily stay alive.
Then there's Alice. The mother. Who abandoned Jenna. Or was she abandoned? Alice is a scientist who specializes in elephant behavior. Grief and loss forms a big part of her research.
"What I was really researching was not how elephants deal with loss, but how humans can't."
And then there's Virgil Stanhope, the detective who worked the case of Alice's disappearance and the pertaining events 10 years ago. The one who should have stood guard, the one who should have devoted his time watching and observing.
And Serenity Jones. A psychic who "lost" her powers after a miscalculated "reading". What will it take for her to get back her tranquility? That sereneness that enables her to be of this world?
Jenna is desperate to find her mother or the truth. Best case scenario, both. She contacts Virgil and Serenity and together they start putting the pieces into place and uncover the truth.
In more ways than one, the biggest characters in this book were the elephants. Browsing through different reviews on this book, I found it astounding how many reviewers "complained" about the elephants in the room book. Yes, this is a great book and a stunning story and the ending really is just WOW. But the elephants, the elephants were amazing. They were real. They were true. Their grief happened. The rest is but a story.
And I cried. I ugly cried. I sobbed. I ached. I grieved. I will remember. I will never forget.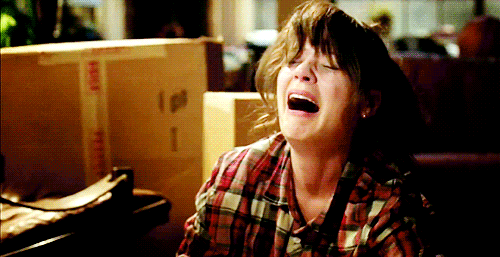 I stopped. And now I wait for purple mushrooms to appear. *Read the book. It's a "thing".
This was good. This was soooo good.
Mareli