Friday Meets - 10 June 2016
Meet me on Friday @ Friday 56 for a bit of Book Blogger Hop to kick-start the weekend with Book Beginnings.
Friday 56 is hosted by Freda's Voice. For this date, you will need the following:
Grab a book

(Yes, any book. But it might get you to your other Friday activities a bit quicker if you just grab the book you are currently reading)

Turn to page 56 or 56% on your e-reader

Find a sentence or two

(your other Friday activities might determine this)

Post it!

Remember to post your link on Freda's Voice and to visit the other guys in the linky.
And don't forget to list the title of the book and the author as well.
I convinced myself last week that I will definitely be able to use 11/22/63 this week for Friday 56. Meaning

56%

and not

page 56.

Alas.....
Not even close

(only around 20% currently)

. Life is interfering with my reading here.
Please take note that page 56 in this doorstop
(this book will keep your door in place even through a hurricane)
is only 6%.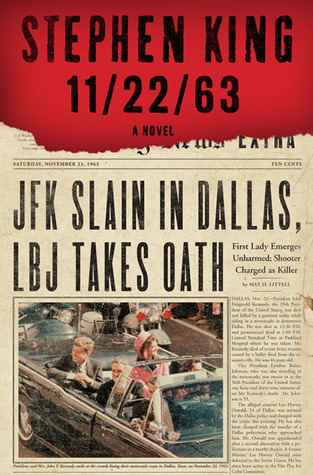 " Did I want to spend years in the past? No. But I did want to go back. If only to hear how Little Richard sounded when he was still top of the pops. Or get a Trans World Airlines plane without having to take off my shoes, submit to a full-body scan, and go through a metal detector."
Before you run of for 'hey hey hey it's Friday'
Remember to join Rose City Reader for Book Beginnings. Share the first sentence or so
of the book you are reading
(or just take the one you grabbed for Friday 56) and share it. As well as your initial thoughts on the sentence and your first impressions of the book. Remember to also post your link to Rose City Reader and to share the others! If you use another book as the one used for Friday 56, remember to include the title and author.
I'm getting quite familiar with The League of Extraordinary Gentlemen and I'm currently on a coffee day with Mr. Dorian Gray.
Which "first" sentences would you prefer? You can chose between:
An Introduction
Who is the infamous Dorian Gray, and how can we begin to classify his story? Dorian is obviously a beauty, a dandy, an impressionable, petulant boy who mutates into a wicked hedonist. He also breaks hearts, takes drugs, tortures his friends and murders with nigh-impunity.
The Preface
The artist is the creator of beautiful things. Those who find ugly meanings in beautiful things are corrupt without being charming. This is a fault. Those who find beautiful meanings in beautiful things are the cultivated. For these there is hope.
And finally
Chapter 1
The studio was filled with the rich odor of roses and when the light summer wind stirred amid the trees of the garden, there came through the open door the heavy scent of the lilac, or the more delicate perfume of the pink-flowering thorn.
Yet again I will be joining the Book Blogger Hop hosted by Ramblings of a coffee addicted writer. Every week they will pop a question that you need to answer. Post your answer to your blog, enter your post to the linky provided, make yourself a cup of coffee and go visit the other blogs in the list.
Today's question: Are giveaways a part of your blog or only reviews?


My answer:
You mean to say that my time and happy ramblings and useless info I so enthusiastically share with you is not

a

Giveaway?
I'm not there yet....
But hope to get to a point where I can hand out a few giveaways. By the way - how do you get
there
?
Please share your directions or your Blogging GPS co-ordinates with me.
Lovely weekend to you all!