Book Travelling Thursdays #3 - Try this one, it's delicious!
Food food - glorious food! Yes, we all love it almost as much as we love books.

(Don't eat the books)

And a book featuring food is like dessert without the calories.
Today's theme for Book Travelling Thursdays is:

Books that focus on food, eating and cooking

.
Let's join the lovely ladies at the Goodreads group and share some recipes! Should you wish to participate, just follow these easy 1,2,3 block(g) myself steps:
Pick a book. At the beginning of every month, a list of themes will be posted. All you have to do is choose a book that fits that theme.

In your blog post, include an explanation of why your chosen book fits the theme.

Look at covers from multiple editions and multiple countries for the book you chose.

Be sure to tag your posts with booktravelingthursdays so we can all see each other's posts. (Link back on the Goodreads Group)

In your post, include the the following:
The original cover
The cover from your country (if there are multiple covers from your country, include them all)
Your favorite cover
Your least favorite cover
I saw this week's theme last week already (I didn't manage to squeeze back to school into my current school diary) and my pick came naturally. For those of you who have been following my blog, you will know that there is only

ONE

book for all the recipes you might ever need:
Meet Tannie Maria - the best cook in the Southern Hemisphere. Tannie Maria has a recipe at hand for just about everything under the sun. Even murder:
1 stocky man who abuses his wife
1 medium-sized tough woman in love with the wife
1 double-barrelled shotgun
1 small Karoo town marinated in secrets
3 bottles of Klipdrift brandy
3 little ducks
1 bottle of pomegranate juice
1 handful of chilli peppers
1 mild gardener
1 fire poker
1 red-hot New Yorker
7 Seventh-day Adventists (prepared for The End of the World)
1 hard-boiled investigative journalist
1 soft amateur detective
2 cool policemen
1 lamb
1 handful of red herrings and suspects mixed together
Pinch of greed
Throw all the ingredients into a big pot and simmer slowly, stirring with a wooden spoon for a few years. Add the ducks, chillies and brandy towards the end and turn up the heat"
Stick this one on your fridge. You never know when it might come in handy. And that's not the only recipe Tannie Maria shares with us. She shares the most delicious South African recipes. It's to die for! I've tried a few of them myself (featured in the photo is
bobotie
,
Melktert/Milk tart
,
Koeksisters
and
Buttermilk rusks
):
Back to the covers. My favorite part of this week's post is that I can actually share a cover from my own country. I am South African and this book is proudly South African! Here's the original hardcover and paperback/kindle covers:
A few other covers: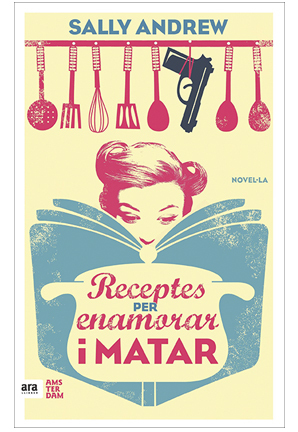 From left to right: Italian, Swedish, Polish, German and Valencian covers. My least favorite cover is the German one. So unoriginal for such an original book. My two favorite covers are: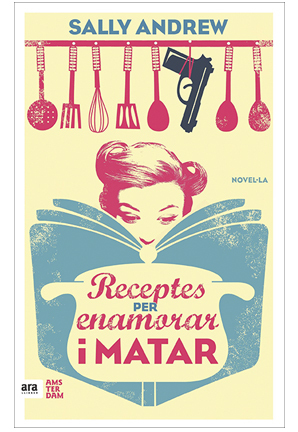 Definitely time for "koffie en beskuit" (coffee and rusks) before my next class comes barging in.
Mareli
Thalk to me!
Do you know any of the delicious South African food featured in the post?
What is your favorite book that focus on food, eating or cooking?