Top Ten Tuesday - Top Ten underrated books on Goodreads
Top Ten Tuesday is a fun weekly link-up/meme hosted by The Broke and the Bookish where they provide a prompt and other lovers of list-making
(me! me! me!) join in with their own top ten list. Feel free to have less than 10 or more if you need to at times and put a spin on the topic if you need to. Just please link back to

The Broke and the Bookish

if you are participating. Link up with your BLOG POST

(not your blog)

in the linky provided and remember to pay it forward!
When I first saw the theme of this week's Top Ten Tuesday, I thought: Huh?? Scratch-scratch, tap-tap finger or pencil - now how must I know that? Luckily as you know:
Readers are achievers
If you can read, you will succeed
If all else fails, read the instructions
The instructions were nicely included with the theme, accompanied with step by step instructions for dummies. Or the technologically impaired. Or infants. Like me.
An easy way to find this -- go to Goodreads, your read list, at the top of your read list where it says settings you can add a column for # of ratings, then you can sort by that. If you aren't a Goodreads user you can look up books you think are underrated and see what their # of reviews is on Goodreads. Or if that's too hard you can spin it some other way!
To hard? Nope, not at all! I was amazed to see how many books are on my Goodreads shelf with a rating below 2000. Some of those books are on my favourite shelf. How is it possible that less than 2000 people know about these books? You can thank your lucky stars that you have me to introduce you to them:
Recipes for Love and Murder - a Tannie Maria mystery by Sally
Andrew
Meet Tannie Maria: "She's fifty-something, short and soft with brown curls and untidy Afrikaans. She is also the agony aunt

(the "dear Abby" Tannie)

for the local paper, the Klein Karoo Gazette. One day, her life takes a sinister turn when a woman in the area is murdered and she becomes entangled in the investigation - to the intense irritation of a handsome local policeman."
She is also the best cook I have ever heard of. She has a recipe for just about everything under the sun - even murder.
If you don't want to read the book - buy, borrow or steal it anyway. The recipes at the back are to die for.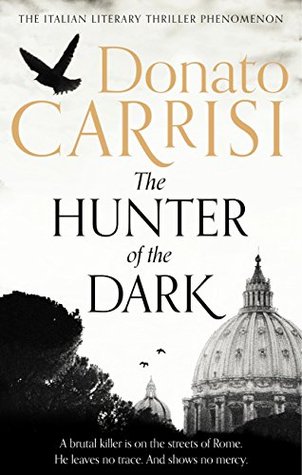 The Vanished Ones by Donato Carissi
is the sequel to The Whisperer. Remember? The six severed arms arranged in a mysteries circle and the one arm's body is actually still alive but need to be found? If you don't remember, maybe read The Whisperer again before you read The Vanished Ones.
The Hunter of the Dark by Donato Carissi
is the sequel to The Lost Girls of Rome. "There is a place where the world of the light meets the world of the darkness. It is there that everything happens: In the land of shadows where everything is vague, confused, undefined. We are the guardians appointed to defend that border. But every now and again, something manages to get through." Again, if you can't remember the Lost Girls of Rome, read it before you Read the Hunter of the Dark.
Note:
I do not get scared very easily, or have nightmares after reading a "scary" book. But these books really made me jump at things that go bump in the night. No, it's not ghosts or a twisted form of the Boogy-man, it's people like you and me. The type you go to church with.
Talking about church people:
The Axeman's Jazz by Ray Celestin. Really? Only 1491 ratings? I loved this book. Such a fun read (no, I don't have a twisted mind - it was fun to read it!) Picture this: New Orleans, 1919. A dark serial killer, The Axeman, stalks the City. Three individuals are set to unmask him.
The most fun part about this novel? The events depicted are google-able.
Just to convince you that I do not have a murderous or twisted mind, I'll make my two last choices a bit more lighthearted. Or at least, two novels where nobody get's killed.
What Milo saw. This was such a lovely, sweet story. Milo suffers from retinitis pigmentosa, his eyes are slowly failing and he will eventually go blind. But for now, he sees the world through a pin hole and notices things other people don't.
Echoes of Titanic. Yes, I am also one of those people who are obsessed with the tragic events of 15 April 1912. When it was the 100-year-remembrance, I jumped on board

(no pun intended)

and search for a novel I can read. I found this one and it was a real gem! I don't have to give you a blurb, do I? But it's not all about the sinking of Titanic, it is actually more of a modern-day, family saga with a few nice twists.
Oh gosh - I said no killing. In my defence, nobody were murdered. They just died of unnatural causes.
What do you consider as the top ten underrated books on Goodreads? Or are you maybe one of the not-2000-rating-people who actually read one of the books I've listed? Please share them with me!